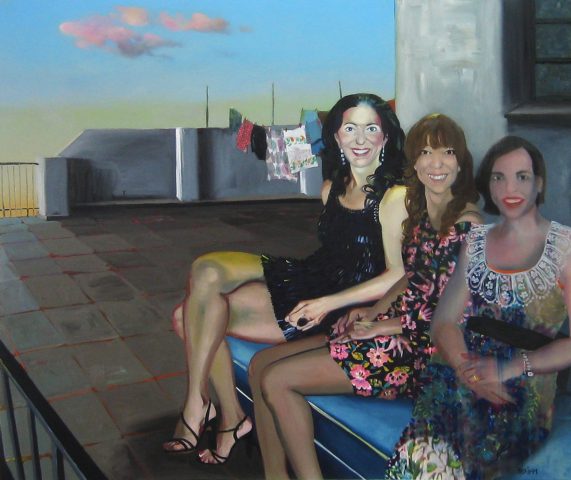 German-Argentinian painter Marcela Böhm has become popular with her society and people scenes. With her individual style she characterized people of her direct surroundings in unconventional situations. Now she has turned her hand to the city theme, herself born in megacity Buenos Ayres. She does not show us panoramas in the literal sense of the word, since she blocks out the town's landmarks, and chooses the backsides of the skylines as her subject, in contrast to the sky and the clouds. Hermetic, almost windowless facades with antennas and satelite dishes agglomerate sculpturally in front of the horizon. One will not believe that people live here, nothing individual like a balcony plant or a flower curtain would prove this.
But we also have the paintings with party scenes and people inside the urban interieur. Böhm is showing a patchwork of urban fragments, and the viewer can put together the pieces for his own image of city. In adaption of a verse by Jose Luis Borges one could say from the point of view of the artist: "The city in me is like a painting that I could not hold with brush strokes."
Marcela Böhm. City And People.
9 May to 13 June, 2015
Opening Reception 8 May, 2015, 7p.m.