Fabian Weinecke - Painting / FESTLAND - "Hippies", Album Release
Opening Friday, January 20, 2023, 7 p.m.
Duration of the exhibition: January 20 - February 11, 2023
Opening times: WED-FRI 12-18h, SAT 10-16h
Gallery Obrist is showing works by Fabian Weinecke and FESTLAND are playing songs from their new album "Hippies".
The Düsseldorf artist Fabian Weinecke (1968-2012) left an extensive oeuvre that can now be rediscovered in this exhibition. In small-format paintings and drawings, Weinecke unfolds idylls and Arcadian landscapes, which are always broken up by inconsistent elements. He often uses the form of the raw picture carrier in his composition, be it wooden planks or torn paper, or he integrates modern devices such as tape recorders or electric guitars into the motifs of the mythologically seeming idyll. "Weinecke takes us into the enigmatic and quirky. Narratively speaking, his pictures run into the indefinite, they generate no meaning and do not explain any connections. But the absurdity of the situation is clear." (From the text: "Idyll versus Irony" by Sven Drühl, 2011)
Fabian Weinecke grew up in Düsseldorf, studied fine arts at the Düsseldorf State Art Academy from 1988 to 1990. He first lived in Essen, later in Berlin. Selection of exhibitions: 2010 "Night Works", Märkisches Museum, Witten / 2008 "Lügen", Künstlerverein Malkasten, Düsseldorf / 2007 "Phantasmagoria", Galerie Claudia Simon, Düsseldorf / 2005 "Just Perfect", Galerie Jacky Strenz, Frankfurt am Main / 2003 "Rage in Eden", Gallery Jacky Strenz, Berlin
As the lyricist of the Essen pop band FESTLAND, Fabian Weinecke's world of ideas is still present today, and the band's new album was the occasion for the extensive exhibition and concert tour that begins at Obrist Gallery.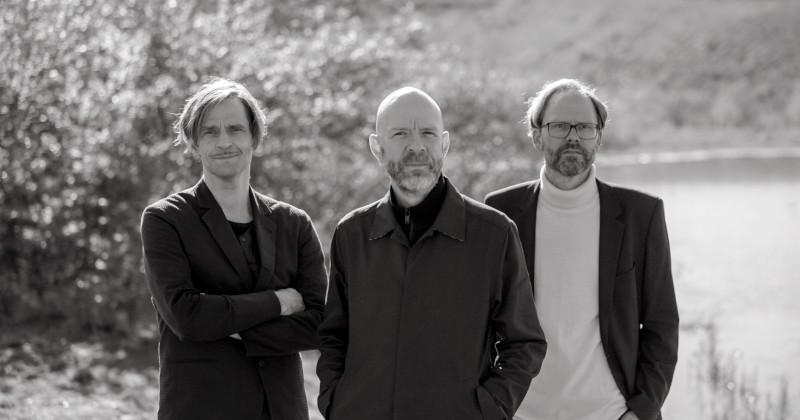 FESTLAND, Portrait: Cornelis Gollhardt
Byte.FM is presenting the FESTLAND tour and writes:
"Hippies" will be released on January 20, 2023 as a double album on the Hamburg label ZickZack Records. Although the band, which was founded in Essen in 2004, is nominally a trio, it still feels more like a quartet. Because in their minds they see the painter who died in 2012, illustrator and lyricist Fabian Weinecke as an "associated band member". Because not only did he write most of the band's lyrics and design their covers before his death, the bond remains after his death and Festland also conceptualizes Weinecke's work on their fourth album , idealistic and artistically true. This is reflected in the setting of his lyrical texts on "Hippies" and the band continues to use his pictures for cover design. In the mid-nineties, the studied musicians Joachim Schaefer (Yoshino) and Dietmar Feldmann (DDFM) joined with Thomas Geier for Festland. Geier had not learned the percussion at the conservatory, but played from beginning to the middle of the 90s on the most important albums by "Die Regierung". Geier's percussion and Feldmann's double bass groove form the mainstay of the song "Girls on the Kai". A minimalist-jazzy, stoic support on which vocal harmonies are layered (...). This structure doesn't even falter when dramatic strings pile up towards the end. Instead, it remains securely anchored in the no man's land between pop and avant-garde.
FESTLAND on Youtube
FESTLAND on bandcamp
FESTLAND on facebook
FESTLAND "Hippies" Album Tour:
20.1.23 / 7 p.m. / FESTLAND "Hippies" album release concert & exhibition opening Fabian Weinecke / Gallery Obrist, Essen
17.2.23 / Gallery Schmalfuss Berlin
18.2.23 / Stadtteilcenter Nord, Hanover
3.3.23 / Haus der Bildung, Schwäbisch Hall
4.3.23 / Kulturcenter, Badstr. 8 Fuerth
18.3.23 / Märkisches Museum Witten
25.3.23 / Gallery Monica Ruppert, Frankfurt
April 21, 2023 / Studio Maria von der Heide Düsseldorf
22.4.23 / brandherd Mannheim
4/28/23 / Westwerk Hamburg
12.5.23 / Melanchthon Essen
13.5.23 / Gallery vorn & oben, Eupen, Belgium