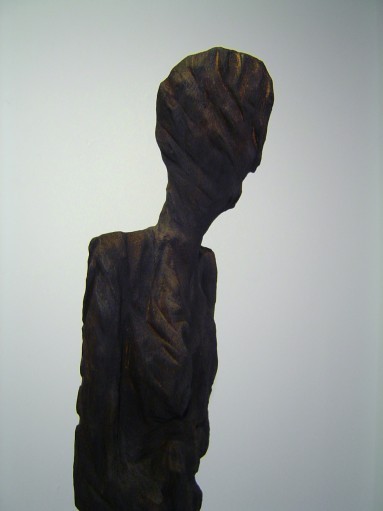 ROBIN HORSCH | SKULPTUREN UND COLLAGEN Ausstellung 19. September - 8. November 2008 Vernissage am Freitag, 19. September 2008, 19 Uhr
Mit dieser Ausstellung zeigen wir Skulpturen, Malereien und Collagen von Robin Horsch, die in den zurückliegenden zwei Jahren seit unserer letzten Einzelausstellung entstanden sind. Horsch ist bekannt geworden mit seinen hochaufgeschossenen, schlanken Holzfiguren, die ursprünglich von etruskischen Bronzefigurinen inspiriert waren. Wie diese hatten sie eine strenge und hieratische frontale Ausrichtung. Im Laufe der letzten Jahre löste Horsch die Strenge immer weiter auf, freie Körperhaltungen und Bewegungsmotive kamen in die Figuren. Jetzt hat Horsch eine neue Serie von Skulpturen gefertigt, die im Unterschied zu den früheren Werken mit dem Schneidbrenner bearbeitet wurden, und dadurch eine amorphe und dunkel gefärbte Oberfläche erhalten. Darüber hinaus ist eine neue, große Bronze entstanden, bei der erstmals gefundene Gegenstände zu einer Figur komponiert werden. Das bildnerische Werk von Robin Horsch ist bisher weniger in die Öffentlichkeit gelangt, obgleich er immer auch parallel zur Bildhauerei Malereien und Collagen geschaffen hat. Im freien Umgang mit gefundenen Materialien entstehen vielschichtige Collagen, die durch zeichnerische und malerische Elemente verknüpft werden, und zwischen Abstraktion und figürlichen Zitaten oszillieren. Robin Horsch wurde 1963 in Wermelskirchen geboren. Seine Arbeit wurde in mehreren Publikationen vorgestellt, unter anderem in der umfangreichen Monographie "Horschfiguren", Köln 2005, und dem gleichnamigen Dokumentarfilm von Peter Wecking aus dem Jahre 2007. In diesem Jahr wurde Horsch bereits auf der Art Karlsruhe (One Artist Show) und der ArtHamptons in New York ausgestellt, und es folgen in Kürze Präsentationen auf der TIAF Toronto International Art Fair und der Kunst Zürich.
ROBIN HORSCH | SCULPTURES AND COLLAGES Exhibition September 19 - November 8, 2008 Opening Reception Friday, September 19, 2008, 7 pm
In our current exhibition we show sculptures, paintings and collages of Robin Horsch. The gallery has been cooperating with the Muelheim based artist as long ago as 2000, and has continuously shown his stages of developement in solo exhibitions. The upcoming exhibition exclusively shows works of the recent two years. Horsch became famous with his thin and tall wooden figures, which were originally inspired by etruscan bronzes. Like those the Horsch figures had a strict hieratic and frontal orientation. In the course of the recent years he abandoned the strictness step by step. The figures now are in free postures and movement. In distinction from the former sculptures Horsch now worked with a blowtorch, which gives a dark coloured and rugged surface. In addition to it he created a new tall bronze, which is for the first time a composition of found objects. The paintings and collages of Robin Horsch are still less known than his sculpture, though he has always been a painter beside a sculptor. In the painting and the collage the private memory of Horsch grows to a collective. Here the master drawing combines with everyday wastes; the "made" with the "found"; the ironical with the serious-meant item. All those unite ambiguously to an aesthetic world, which poetically sublimates our reality.
CV ROBIN HORSCH