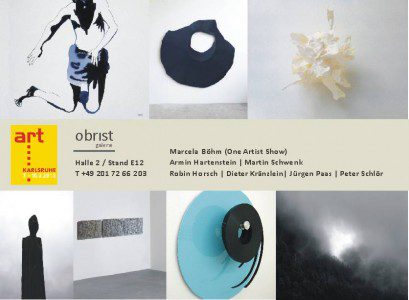 10 years of Art Karlsruhe, and for the 10th time Obrist Gallery will be participating! Over this period the fair has become one of the most important artfairs in the German-speaking world: Congratulations to the administration of the fair!
This year the gallery has moved to hall 2. With its emphasis on current contemporary positions this hall provides us with the best context. We are proud to present work of the following artists:
MARCELA BÖHM (One Artist Show) - After her outstanding solo exhibition at the gallery we show for the first time in Karlsruhe a One Artist Show of the Argentinian Painter.
DIETER KRÄNZLEIN - For years new stone works by Dieter Kränzlein belong to the highlights of our booth and the Art Karlsruhe.
JÜRGEN PAAS - The idea of color archives accompanies Jürgen Paas in his space installations, as well as in his paper and book works. With "Popplanet" Paas just published a big monography, which we will present at our booth in Karlsruhe.
MARTIN SCHWENK - His solo exhibition at Museum Haus Lange Krefeld 2012 proved impressively, that Schwenk is amongst the most important sculptors in Germany. (Starting June 2013 exhibition of Martin Schwenk at Museum im Prediger, Schwäbisch-Gmünd.)
Moreover at our booth you can have a closer look at the works of Düsseldorf painter ARMIN HARTENSTEIN, at wooden sculptures by Mülheim-based ROBIN HORSCH and at works from the series "Black and Wide" by Mannheim photographer PETER SCHLÖR.
Art Karlsruhe 2013
Galerie Obrist in hall 2, booth E12
7-10 March, 2013
Messe Karlsruhe / 76287 Rheinstetten