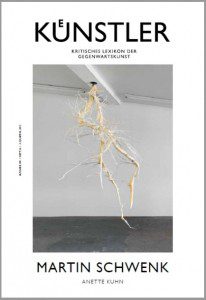 "Künstler – Kritisches Lexikon der Gegenwartskunst" is a periodically published lexikon, which presents contemporary artists. Volume 100 has just been released, and it is dedicated to the Dusseldorf painter and sulptor Martin Schwenk, who we presented with a solo exhibition in spring 2012, and who had a simultaneous exhibition at Museum Haus Lange in Krefeld.
Text by Annette Kuhn. 16 pages, DinA4, Verlag Der Kunsthandel, Neu-Isenburg 2012.
Here you can order the volume...