Although their handwriting could not be more different, the Essen artists Jamiri, alias Jan-Michael Richter, and Helge Jepsen share not only a passion for drawing but also a love of the Ruhr region. A selection of her works can be seen from 24 July at GAM in the exhibition "Gezeichnet, gepixelt, gedruckt".

Jamiri is one of the most popular cartoonists in Germany. In his picture stories he ironically reflects on the small pitfalls of everyday life or the relationship to his wife Beate. From time to time the Lord himself takes a seat in his car to philosophize with him about life.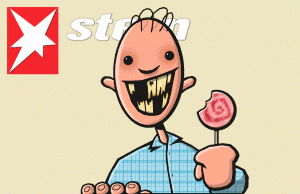 Helge Jepsen, who was born in Flensburg, also prefers the Ruhr flair to the hip media metropolises of Germany. The successful communication designer works for big magazines like Stern, Playboy or Wirtschaftswoche. Jepsen's speciality is playing with fictitious worlds of goods whose aesthetics are reminiscent of American advertising posters from the 1950s.
Gezeichnet, gepixelt, gedruckt.
Illustration art from Essen by Katrin Assmann, Martin Baltscheit, Gaby van Emmerich, Jamiri (Jan-Michael Richter), Helge Jepsen, Christian Schellewald and Rainer Stock.
Essen, GAM Galerie Obrist, 24.07.–28.08.2010
Exhibition opening on 23. 07. 2010, 7 p.m.