p>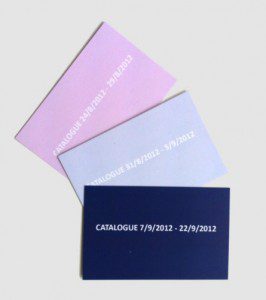 Starting on 24 August the Vienna based artist couple Hanakam & Schuller show a spectrum of their work in our gallery, titled CATALOGUE. This will not only be one, but three exhibitions, which will occur one after another, week by week. Each part introduces another work category and group of themes: Accordingly the gallery appears on three opening receptions in different shape.
CATALOGUE 24/08/2012-29/08/2012
CATALOGUE 31/08/2012-05/08/2012
CATALOGUE 07/09/2012-22/09/2012
CV Hanakam Schuller

Hanakam Schuller: Catalogue.
Aug. 08.- Sep. 22, 2012.
Opening Receptions: Aug 24, Aug. 31, Sep. 07, 7 p.m.